Five things to know about Virginia Tech vs. Appalachian State (Part 1)
The day Virginia Tech Hokie fans have waited nearly eight months for has finally arrived; the start of a new season and a new era of Hokies football – the Logan Thomas and Mike O'Cain era.
Logan Thomas is the much-heralded redshirt sophomore quarterback for the Hokies. At 6-6, 254 pounds, he is a physical specimen and from what he's shown in practice and what the "experts" are saying, he has the skills to back up the hype and expectations.
Gone is the ACC Player of the Year Tyrod Taylor, who recently won the Baltimore Ravens No. 2 quarterback position before spraining his shoulder. Enter Thomas who has attempted just 26 passes in his career, while completing just 12 of them. Fans are excited, but also a little nervous.
Add to the mix quarterbacks coach Mike O'Cain, who will be calling the offensive plays this season. Earlier this year, head coach Frank Beamer decided a change was in order and relieved offensive coordinator Brian Stinespring of the play-calling duties and turned them over to O'Cain, who last called a game as the OC for N.C. State more than seven years ago.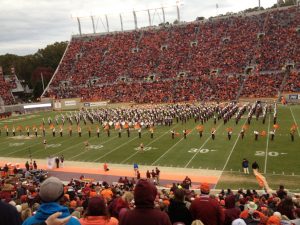 A new quarterback with little game experience and a new play-caller could provide for an very interesting season-opener for the Hokies. By now, die-hard Hokie fans have read every game preview they can get their hands on. So, we'll keep it simple and break down five things we think you should know going into today's game.
Thing 1: The Rifleman
You've heard it used before to describe a quarterback's arm and in Logan Thomas's case, it's absolutely true. We haven't seen a QB with his release and velocity since Michael Vick wore No. 7 more than 10 years ago. Thomas' passes routinely leave receivers wincing as the ball hits its target – the receivers hands. And though he has little game experience, LT has stepped up as the offense's unquestioned leader. He has confidence and poise rarely seen in a player in his first year as a starter. While the game plan is for LT to hand off a lot to running backs David Wilson and Josh Oglesby – you can fully expect O'Cain to call some deep routes and let LT's strong arm and the Hokies ridiculously talented receivers take a shot at ASU's overmatched secondary.
Thing 2: Chasing the Rabbit
We've all seen what mild-mannered David Wilson can do on and off the football field – remember that rabbit he snuck up on and caught? But the 2011 season will be the first chance we get to see him in the featured running back role. Like Thomas, Wilson has given fans and college football pundits ample reason to be excited about this season. The biggest concern is what happens if Wilson gets sidelined? Last year the Hokies had Ryan Williams and Darren Evans, but this year, it's just Wilson. That's not to take anything away from redshirt senior Josh Oglesby, who could very well have a 1,000-yard season if given the opportunity.
(To be continued)