Five things to know about Virginia Tech vs. Appalachian State (Part 2)
Thing 3: Fosters, English for Defense
Yet again, defensive coordinator Bud Foster has some young players on defense that have a lot to prove after the Hokies' disappointing performance last season – one of the worst ever under Foster. The defensive line is probably the most experienced and reliable unit featuring experience at every position. Redshirt sophomores James Gayle and J.R. Collins man the defensive end positions while brothers Derrick and Antoine Hopkins shore up the tackle spots. This front four has the potential to wreak havoc all season against any offense. The biggest question marks will be the secondary where junior Jeron Gouveia-Winslow, who struggled last season, returns as the whip linebacker; other newbies include Tariq Edwards, Kyle Fuller and Antone Exum – all saw playing time last year, but enter the '11 season at the top of the depth charts. Bruce Taylor is back and played well last season and the corner spots are solidified by junior Jayron Hosley, an All-American, and senior Eddie Whitley.
Thing 4: Don't Repeat History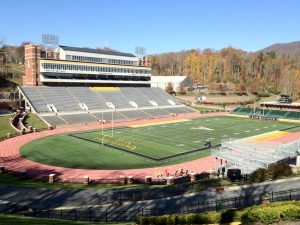 We all know what happened to the Hokies last season in their second game against James Madison (Dukes fans won't let us forget it). Beamer made the team re-watch last year's shocker at Lane Stadium where JMU pulled the biggest upset in both schools' history, 21-16. Players hated having to watch it because the embarrassment still burns in their souls, but Beamer's point was that ASU is 10x the team JMU was (the Mountaineers are ranked No. 2 in the FCS and have on three FCS national titles), so the Hokies cannot take them lightly.
Thing 5: The Kickers
Once again the Hokies start the season with a brand new place kicker, Cody Journell. They also have a new punter in Scott Demler, who narrowly beat out wide receiver Danny Coale for the job. ASU is full of fast athletes that love to fly around the field. Tech's once-vaunted special teams have faltered in the last few years, so you can be sure the Beamer spent some extra time with his kick and punt protection teams. If ASU is to pull of an upset of the Hokies, they'll need turnovers and seeing as how Tech's receivers and running backs are not turnover prone, expect the Mountaineers to come hard and fast at Tech's kickers.