Hokies clinch fourth ACC title with 44-33 win over Noles
Forget the past. Forget Virginia Tech's 1-8 record against Florida State since Frank Beamer took over in Blacksburg. Forget the 2005 ACC championship game when an unranked Seminoles team shocked the No. 5 Hokies for the conference title. History didn't mean a thing to the 2010 Hokies going into Saturday's ACC title game, and they proved it by putting on an offensive clinic.
Senior quarterback, and newly crowned 2010 ACC Player of the Year, Tyrod Taylor played a near perfect game, leading the 12th-ranked Hokies to a 44-33 win over 20th-ranked Florida State. Taylor completed 18 of 28 passes for 268 yards, three touchdown passes and one rushing TD. For his efforts, he was named the game's most valuable payer, making him the first ACC player to win both conference Player of the Year and championship game MVP.
Virginia Tech (11-2 overall, 9-0 vs. ACC) has won 11 straight games since dropping a heartbreaker to Boise State in the season opener and then falling at home to FCS team James Madison five days later. Those games may as well be from last season because Virginia Tech is clearly one of the hottest and most dangerous teams in the country right now.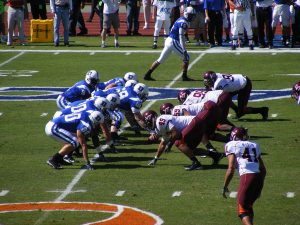 The Hokies are the ACC champions for the fourth time in seven seasons since joining the league in 2004. Tech won the conference title outright in 2004 before there was a championship game, and then won back-to-back titles in 2007 and 2008, and Saturday night's victory gave them their title since the championship game format was introduced in 2005.
Unlike most games this season, the Hokies' defense didn't wait until the second half to inflict damage on its opponent. Quite the opposite. It came out swinging and Florida State's defense played on its heels virtually the entire game. At the same time, Tech's defense, which has had a down year by defensive coordinator Bud Foster's standards, got the Hokies on the scoreboard first with a pick six by linebacker Jeron Gouveia-Winslow who returned an EJ Manuel pass 24 yards for a score and a 7-3 Tech lead.
From there, Taylor powered and paced the Hokies offense, exacting its will on the vaunted Seminoles defense that had been ranked in the top 20 in scoring defense, allowing less than 18 points a game. Tech's first offensive drive lasted seven plays, but stalled at midfield. The Hokies second drive, however, needed just three plays thanks to running back Darren Evans who broke off a 51-yard run down to the FSU 9 yard line and then powered his way into the end zone on the next play for the score and a 14-3 lead.
The Noles answered to make it a 14-10 game, but Tech's offense went right back to work with a 13-play, 91-yard drive capped by a 19-yard TD pass from Taylor to Jarrett Boykin, and the Hokies were back up 21-10. Florida State kept pace with a late second-quarter score to send the game into the half with the Hokies leading 21-17.
The second half was a completely different game. Tech's offense scored on its first four possessions and Foster's defense, as it has during the 11-game winning streak, shut down the opposing offense for most of the second half, allowing the Noles just 136 yards of total offense, most of which came on the Noles final drive of the game. Tech led 44-26 with less than a minute to play. The game was out of reach, but FSU continued to push to the end zone and scored a TD with :07 to play.
The onside kick was record by Virginia Tech and Taylor took a knee to secure the win. The final score, 44-33, was not representative of how lopsided the game truly was, especially in the second half. The Hokies scored twice in the third quarter to take a 35-17 lead behind a 45-yard scoring strike to a wide-open Danny Coale and a 21-yard dump off pass to an equally wide-open David Wilson. Coale had a career-day with six catches for 143 yards and a TD.
Senior kicker and first-team All-ACC kicker Chris Hazley made his 20th-straight field goal – a school record – in the fourth quarter to help put the game away. But it was Taylor's dizzying and dazzling 5-yard touchdown run that summed up Florida State's night on defense – they simply could not solve the ACC's best player.
Early in the fourth quarter, with the Hokies knocking on the door at the FSU 5 yard line, Taylor dropped back to pass on 3rd and goal when his protection quickly broke down, but Taylor remained calm, eluded a couple of would-be tacklers before slipping through a gap and walking into the end zone as frustrated FSU defenders looked helplessly on.
And while the Hokies' defense gave up 33 points, it played like it has for most of the season … bend, don't break. Saturday night was no different. In addition to Gouveia-Winslow's first-quarter interception, senior Davon Morgan picked off another Manuel pass in the fourth quarter to set up Hazley's 43-yarder.