The Hokies Are Gearing Up for Spring Practice
Ahead of their spring practice schedule about to kick off on 17 March, head coach Justin Fuente addressed the media to discuss his Hokies and answer some of the burning questions facing Virginia Tech Football.
Season 2018 will bring a lot of excitement for Virginia Tech football fans, especially those who like betting on sports. Many people are turning to Pinnacle, one of the best sportsbooks, with amazing football betting odds. If you'd like to give it a try, don't miss the Pinnacle VIP Code 2018.
The 2017 season was a success for Hokies. They finished with the overall record of 9-4, and were included in top 25 college football teams by Associated Press. In 2018, they will achieve a streak of 26 consecutive bowl appearances, the longest active streak and the third longest in history, according to NCAA.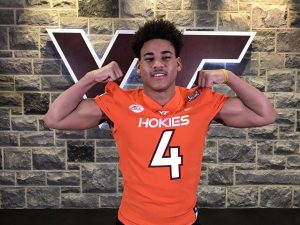 However, the Hokies are about to face a challenging offseason with plenty of replacements and young players who still need to prove their mettle.
Fuente, who is entering his third season as team's head coach, recognizes the problem of losing two starting linebackers and three corners, but is optimistic about what youngsters can do.
Some of the major challenges Hokies are going to face during practice include strengthening the defence, finding a proper receiver and dividing quarterback reps.
Virginia Tech needs to find someone who can replace Tim Settle at defensive tackle alongside Ricky Walker, the most important player on the defence at the moment. Jarrod Hewitt (r-So.), Xavier Burke (r-Jr.), Darius Fullwood (r-Jr.), Jimmie Taylor (r-So.), J'Bril Glaze (r-Fr.) and Robert Porcher IV (r-Fr.) are among the possible candidates.
One of the biggest news at the press conference held on Monday, 12 March, was that freshman Caleb Farley will move back to defence. Other position changes include Joe Kane switching over to offence and Lecitus Smith becoming an offensive lineman as well.
Another important question to consider is who can replace Cam Phillips at wide receiver in 2018. Will Sean Savoy (So.) and Eric Kumah (Jr.), be able to match Phillips' production this season? Can Phil Patterson (r-So.) and Caleb Farley (r-Fr.) play a role? These questions are yet to be decided.
Commenting on quarterback Josh Jackson (17), Fuente said that he needs to be better, but he also praised him for being judicious and leaving lot of points on the field. "We were so young around him that we weren't mature enough to help inflate his numbers if you will, or his production because we just weren't good enough around him," added Fuente in an interview for Orlando Sentinel.
There is a possibility that Jackson will be replaced as quarterback if freshman Hendon Hooker and junior Ryan Willis outperform him during exercise.
"Sure, if we played tomorrow, Josh would be our starter," Fuente said Monday. "But quarterback, like every position, we have very few guys that are above or beyond reproach in terms of competing for their jobs. So we'll go out there and divide up those reps."
One thing is for sure: we are looking forward to an exciting season with a lot of surprises!